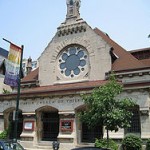 Stevie is heading to the USA at the start of April for 3 shows – 2 as part of Chickfactor's "For The Love of Pop" 20th Anniversary celebrations and the other at the First Unitarian Church in Philadelphia.
The first show is in DC at the Ballroom, Artisphere, Arlignton on the 6th April and also features him alongside Frankie Rose, Honey Bunch and Dot Dash. Tickets can be purchased for either the night on its own or as a pass for both the DC Chickfactor shows.
The second show is in the side chapel of the First Unitarian Church on 7th April. It has an amazing history and has been home to some great shows in recent years too.
Tickets are on sale now from Ticketfly
The final show (for now) is in New York on the 12th April and features me, Honey Bunch, The Softies, The Pines and special guests. It is at the Bell House in Brooklyn and tickets are already on sale.